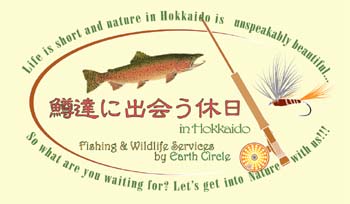 Lake Fishing Safari
Welcome to a mystical lake, the Lake Kussharo, and the Akan lake!
The super rainbow and Native Amemasu is waiting for you.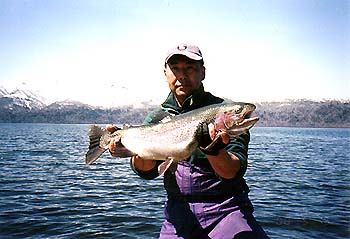 Lake Fishing Safari, we accompany you to a mystical lake, the treasury of native trout, the lake Kussharo or other small lakes.
Because we use fishing boats or drift boats, we can begin the point that is hard to be begun simply comparatively usually.
We cater from expert fly-fisher aiming at trophy class of trout to family companion spending fishing holiday.
The best season is from May to November .
Fishing method is fly fishing, spin fishing, trolling, harling.

Especially our recommendation is Nakajima Island of lake Kussharo.
This cannot enter it besides a boat.
The circumference of the island is shallow for some distance, and has become best feeding point for trout.
The record for 2001 years of Kussharo is 90 cm of Rainbow trout.
We call Rainbow of this place "Diana" from a beautiful thing like a lady.
Do not you come to encounter "Diana" of Kussharo?
Memories of Lake Kussharo
New Fishing Spots
It is a really beautiful lake. fishing boats or drift boats is used, casting can also be relieved.
A best season is from the second half of May to end of June.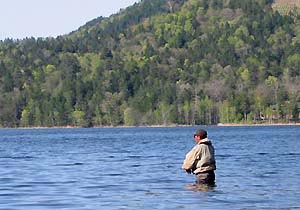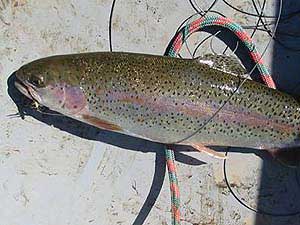 We start a tour in Lake Takkobu.
Object fish is Amemasu, Ito, and Rainbow too.
Please enjoy in a quiet lake Takkobu, surrounded in wet land.
---
Your enquiry to webmaster@welcome2nz.com
©2003 Earth Circle Limited. Information in this document is subject to change without notice.
Earth Circle Limited (JP) Toro, Shibecha, Kawakami, HOK Japan 088-2264 Phone:+81-1548-7-3100